An airplane accident near San Diego's Brown Field Municipal on Sunday left five people dead. Two planes collided mid air. One was a solo piloted Cessna 172, the other a Sabreliner with four persons aboard. The accident occurred at 11 am and spread wreckage across a quarter mile area.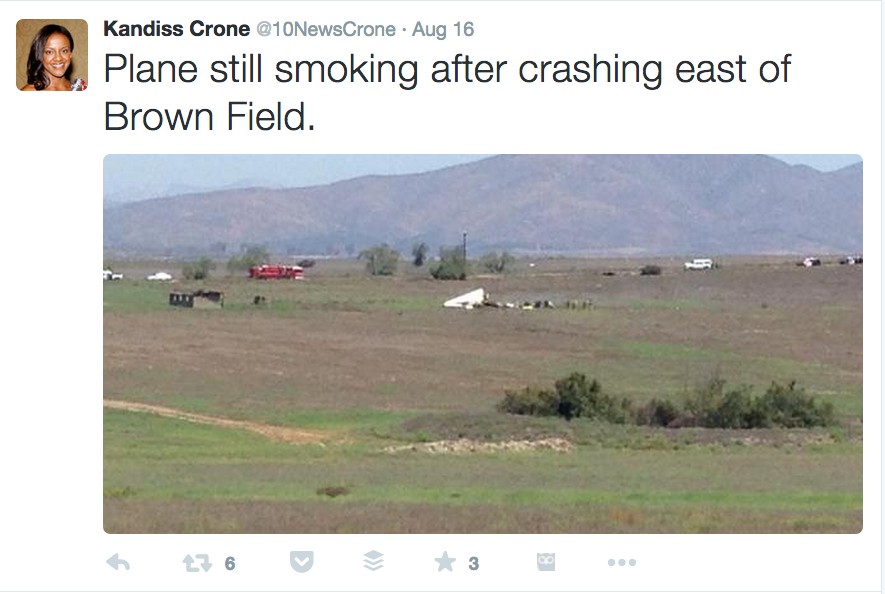 So what happened? Who or what was to blame? How could this plane crash have been prevented?
This is a tragic, tragic accident and everyone wants to know how something like this can happen, or more importantly, how it could have been prevented.
Investigations into the cause of the accident are ongoing with the wreckage of both planes already on the way to Phoenix. And it will be some time before anyone really knows what went wrong because there are so many questions and unknown factors.
Were the pilots aware of one another is one question? One thing we know is the right wings of both planes were damaged which would lead you to believe they were flying right into each other. But that damage could also have happened when they hit the ground.
Did communication problems contribute to the accident? We know that both planes were in touch with ATC "shortly before the crash." And apparently, one of the pilots was performing training maneuvers that normally involve regular communication with the tower. So failure in communication equipment doesn't appear to have been a factor, at least yet.
Far from a smoking gun, it's very much a question mark as to the cause.
A flight instructor shares some thoughts on cause and prevention
To help understand how other pilots might avoid the same terrible fate, I reached out to an instructor with the Stanford Flying Club. I specifically asked him how he teaches pilots to avoid midair collisons.
He said, "We teach all of our students very specific scanning patterns in order to avoid other aircraft especially when flying near airports with high traffic density. That includes scanning nearby airport approach and departure corridors. Many of our airplanes are equipped with air traffic information systems to augment visual scanning, and all students are taught to fully utilize such equipment. Pilots are encouraged to to use air traffic control advisories and flight following services when possible."
Prospective pilots in San Diego, Stanford or anywhere else learn the same things he said. "So what might have caused this plane crash in particular?" I asked him.
He replied, "It's impossible to say. They say never take your eyes off the road. Perhaps that happened here. Maybe a pilot was distracted. Maybe the air traffic controller was distracted. Maybe someone had a sudden physical impairment. Maybe communication suddenly went down. Or maybe a pilot made a sudden unexpected move. Or maybe one or both pilots were too dependent on air traffic control and stopped paying attention to their surroundings."  One thing is certain, it will take some time to unravel it all and it may never be understood."
Could this San Diego mid-air collision be a repeat of what we saw in Fort Bragg last December?
Last December's midair collision in Fort Bragg thankfully did not end in injury or death like the one here in San Diego did. We don't know what caused this latest crash, but perhaps looking at the cause of the other can at least alert pilots to ways they can prevent accidents themselves.
In regards to the Fort Bragg plane crash and according to a report issued by Air Mobility Command, "both crews failed "to effectively execute … external visual scan patterns," which led to a "reduced ability to recognize unsafe situations." The report also said normally other crew members on board would assist in scanning the skies, but in this case, "they were each performing other duties in the moments prior to impact."
"About 80 percent of a pilot's perception and decision making comes from what he or she sees," the report continued. "Scanning is not just a task, but an art that must be consistent and deliberate."
And according to an AMC news report on that crash:
"The crews relied too much "on Traffic Collision Avoidance Systems to alert them to potential traffic conflicts."
Is this what happened in San Diego? What can we learn?
We may never know what caused this terrible accident, but whatever the cause, it is a good wake-up call for all pilots everywhere. One thing is certain,  whenever you take to the skies – or to the road for that matter – it's critically important to be always observant of everything around you and never take things for granted.
To some extent we can control whether we live or die. It is our hope that this accident might remind us of the dangers that exist and help us all to remain alert, attentive, responsible and out of harm's way.
It's also important for surviving families to know that with the aid of a personal injury attorney, it may be possible to get compensation for their pain, suffering, and loss. An attorney can help sort that out, and it's never too early  to start the discussion.
So if you have been injured or your family member was killed in a plane crash, please consult with a personal injury attorney immediately.  Insurance companies are after their own best interest, not yours, so it's important that you not speak to them until you have legal advice. If you are in the San Diego area, please call us here at (619) 444-2244. We represent airplane and helicopter accident victims and work tirelessly and passionately to get them the compensation they deserve. There is never a charge until we win. 
Everyone here at the Elia Law Firm, APC would like to extend condolences to the families of the victims of this midair plane crash in San Diego. We're so very sorry for your loss.

Latest posts by Steven Elia
(see all)