SERVING SAN DIEGO, EL CAJON, LA JOLLA, LA MESA, AND SURROUNDING AREAS
SAN DIEGO CIVIL LITIGATION LAWYER
With concentrations in personal injury, corporate vs corporate, business disputes (contract, employment and others), and criminal litigation
We do not handle police brutality, marital disputes, or civil rights cases.
Civil litigation is like a game of chess. Outsmarting your opponents requires knowledge, experience, and a smart strategy.
And no matter what side of the case you're on, that requires a tough civil attorney on your side.
Elia Law Firm, APC in San Diego loves "playing chess" and has successfully litigated civil cases in state and federal courts since 2001. With a combined 4 decades of legal experience under our belt fighting for clients on both sides.
That means if you're sued, we can help defend you.
Or if someone has caused you harm, we can help you file your civil lawsuit and prosecute the responsible party.
In addition, if you're at a stalemate and want to avoid trial, we can help you resolve your case through mediation to help save you the high cost of long protracted litigation and trial.
Where does it start?
We recommend contacting a civil attorney to review your case and determine if you have a case at all.  In San Diego? Then request a free case review below.
Frequently Asked Questions About Civil Litigation
What is civil litigation?
Civil litigation is the legal process involving disputes between parties who seek either monetary compensation or equitable relief. Equitable relief (such as an injunction/restraining order) means asking the court to issue an order forcing a party to do something or reframe from doing something.  A civil lawsuit may be filed either in state or federal court.
How much time do I have to file a responsive pleading in a civil case?
In California State Court, you have 30 days to file a civil case, from the date that you are served with the summons and complaint (lawsuit). This 30-day deadline does not apply to an unlawful detainer action (eviction). In Federal Court, in general, you have 21 days to file a responsive pleading.
How much does a civil lawsuit cost?
The cost of civil litigation depends on several factors, which include the hourly rate of your attorney, how aggressively the other side litigates, the length of time the case is litigated, the extent of discovery conducted, the number of experts needed, the number of mediation sessions, and whether or not the case proceeds to trial.
Civil lawsuits can be extremely expensive and time consuming – if litigation can be avoided, it should be! In many cases, the cost of litigating a case may yield diminishing returns for a client. Thus, it may be far more cost effective to settle a civil case early on rather than to spend tens of thousands of dollars defending yourself over the course of a year or more of protracted litigation. As such, we counsel our clients to avoid civil litigation unless it is deemed absolutely necessary.
What are the types of fee arrangements?
Your lawyer may charge legal fees in one of three ways (or possibly a hybrid of two): 1) an hourly fee, 2) a contingency (percentage of recovery) fee, or 3) a fixed flat fee.
For civil litigation cases, most lawyers will insist on being paid hourly. If your lawyer's rate is $300 per hour, then your cost would be $300 multiplied by the number of hours he worked on the case plus out of pocket costs. Lawyers usually take contingency cases when an insurance company is insuring the defendant or when the defendant has sufficient assets. A flat fee arrangement is unusual in a civil lawsuit simply because there are so many unknown costs and variables.
Beware of lawyers who agree to represent you through trial for a fixed up front fee. Once they receive the money, they may not find any further incentive to diligently prosecute the case.
How long does a civil litigation case take to get to trial?
The length of time largely depends on what county you're living in. In San Diego County, the wait usually takes at least a year and sometimes up to two years or more before a case goes to trial.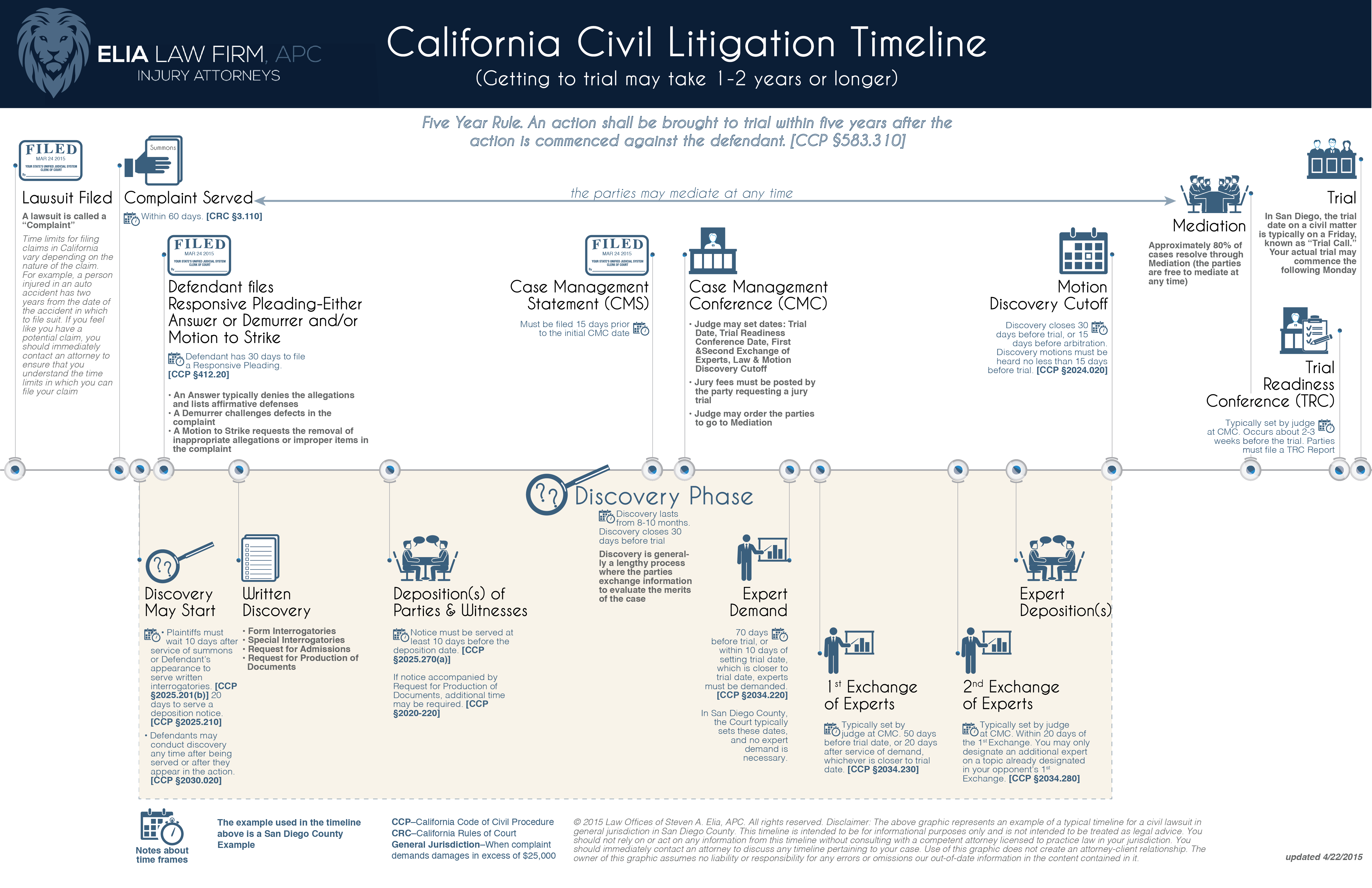 Can I represent myself in a civil litigation case?
Remember, attorneys spend years in law school studying our complex legal system. And even after passing the bar exam, most first year lawyers are clueless as how to handle a litigation case.
Remember the old adage "a lawyer who represents himself has a fool as a client"? Other than small claims court, we strongly recommend against representing yourself.
Imagine you didn't know the rules of chess and had a match against someone who had over ten years of experience playing the game. Think you've got a shot? Knowing the rules of court is much tougher than chess and analogous to speaking a difficult language.
To illustrate, pretend for a moment that you've been transported to Russia and you don't speak Russian. Undoubtedly, you would face great difficulties attempting to survive.
Never forget: Attorneys spend years in law school studying our complex legal system. And even after passing the bar exam, most first year lawyers are clueless as how to handle a litigation case. Unless you are willing and able to spend years in a law library, you should hire an attorney for every legal case!
Can you provide a real life example about serving as your own civil attorney? 
Several years ago, our firm represented a family who was sued by a woman claiming that our clients failed to disclose certain defects in the house they sold her. Prior to trial, we offered the plaintiff $80,000 and encouraged her to settle. However, she was stubborn and demanded 1.8 million dollars, even though the plaintiff didn't have a lawyer and we cautioned her that should the case proceed to trial, she wouldn't stand a chance against our experienced trial attorneys. Unfortunately, the woman wouldn't listen and off to trial the case went.
After three days of testimony from the plaintiff, her witnesses, and her experts, the plaintiff who was representing herself rested. Our trial attorney then made an immediate motion for a directed verdict on liability. The judge granted our motion after less than five minutes of oral arguments and the plaintiff's case was dismissed. Without even calling one witness, our trial attorney was able to dispose of the entire case simply because he knew the rules and the unrepresented plaintiff did not. Don't let this happen to you!
At what point can I settle my civil litigation case?
As long as both sides agree, the parties may settle their case at any time and at any stage of the litigation. You can settle as early as the day you get served the lawsuit, or as late as after closing arguments when the jury is in deliberations.
What happens when I settle?
The attorneys will draft a settlement agreement that both parties will sign and which will have the effect of forever ending the lawsuit. The agreement will contain the terms of the settlement, release language, and other general provisions. It should also indicate that the plaintiff is required to file a "Request for Dismissal" with prejudice form with the court.
What is mediation?
An informal meeting involving the disputing parties, their attorneys, and a mutually selected mediator (usually an attorney experienced in the subject matter of the dispute) who will work with both sides and attempt to convince them to settle. At a certain point during litigation, the parties may agree to attend mediation, or a judge may order them to attend. No legally binding decision will be made at the mediation by the mediator.
What should I expect at a mediation?
If the parties are not physically hostile towards one another, mediation typically begins with a joint session where both parties, their attorneys, and the mediator meet at a conference table. The mediator explains to the parties that everything said during the session is privileged and cannot be used against any party at a subsequent hearing or trial. He/She then explains his/her position of neutrality, the benefits of settlement, and the risks and expenses associated with going to trial.
The mediator may then ask each attorney to give their brief position on the case. After the joint session, the mediator separates the parties into different rooms, and he goes back and forth attempting to negotiate a settlement.
On the upside, 70-80% of all cases are settled during mediation. The bad news is that mediators are expensive, typically charging $500 or more per hour, which is usually split between the parties. But for that much money, you do get to consume all the free soda, chips, and candy possible!
Do you have a civil case? Or does someone have a case against you?
Stop wondering, start negotiating, or start fighting.
We have concentrations in personal injury, corporate vs corporate, business disputes (contract, employment and others), and criminal litigation. If your case involves any of these, we can help you. Find out what your rights are. Call (619) 444-2244 today or submit the form on this page for a free consultation.
PLEASE NOTE: WE DO NOT HANDLE POLICE BRUTALITY, MARITAL DISPUTES, OR CIVIL RIGHTS CASES.
Get help with your civil case
PLEASE NOTE: WE DO NOT HANDLE POLICE BRUTALITY, MARITAL DISPUTES, OR CIVIL RIGHTS CASES
Learn More About Civil Litigation…