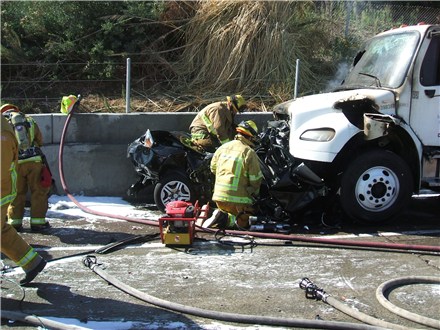 A truck hit a stopped sedan on Interstate 15 in Escondido Sunday, setting off a multi-vehicle chain reaction and trapping a man inside his burning vehicle.
Police say 47-year-old Escondido man was driving a 2008 Freightliner flatbed truck when he braked to avoid a traffic backup, but rear-ended a 2007 Chevy Malibu. The crash set off a chain reaction, involving two other vehicles. Officers also say the Malibu became wedged under the truck and caught fire, trapping the driver inside.
Bystanders and three off-duty sheriff's deputies ran to rescued the trapped man before he became burned. The driver, however, did suffer major injuries and was transported to UC San Diego Medical Center for treatment.
Three other people were also injured the crash.
Police believe neither drugs or alcohol were suspected in the crash.
Motorists who do not pay attention behind the wheel put both themselves and other drivers at great risk. If you or a loved one has been injured in a San Diego car accident, please contact an experienced San Diego car accident injury lawyer, like Steven Elia. Steven A. Elia has years of experience fighting for injured individuals and their families after a car accident.

Latest posts by Steven Elia
(see all)