You may think potholes are insignificant. But a small hole can put a deep cut into your pocketbook – and even take a life!
Who would've thought that a little hole in the ground could cause so much harm. Safety researchers are estimating that potholes will cause roughly $6.4 billion in damages to cars this year. That's a lot of cash!
Most pothole damage goes to tires and shock absorbers, but everything from brakes to steering and even your engine can be damaged. Repairs start at $50 but go way up if your engine is involved, and can be a nasty surprise if they go unnoticed until a routine service check.
Consequently, it might be time for you to take a fresh look at potholes. They are not just the little bump in the road you thought they were.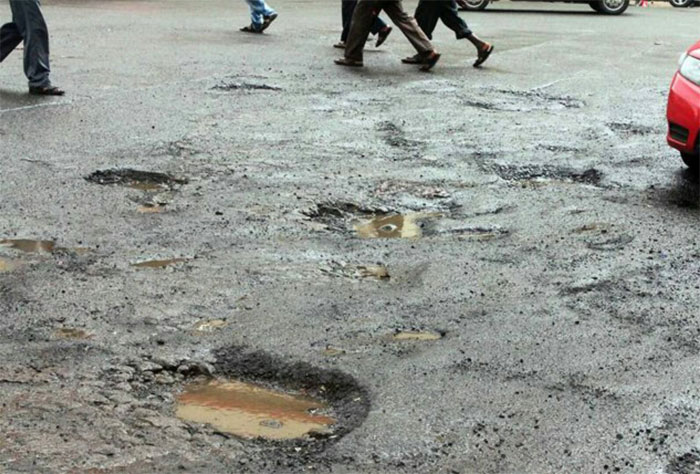 Potholes cause roughly $6.4 billion in damages to automobiles each year.
So who is liable for pothole damage to your car or to your body if you were injured on a bike or motorcyle? The answer may surprise you.
You may think you have to pay for pothole damage, but there are alternatives to paying out of pocket.
Insurance is the most obvious with some 500,000 pothole damage claims filed with insurers every year. This is great if you're covered for road hazards but could lead to an increase in your insurance rates. So if you can keep the insurance company out, that's best.
A better solution is getting the government to pay for pothole damage. Here in San Diego, the city is liable for damage caused by potholes providing they knew about the pothole but failed to perform the repair. In the years between 2004 to 2014, they paid out roughly one million dollars in roughly 1,500 reimbursements that came from just over 2,200 claims.
But the vast majority of pothole damages went unreported and were unnecessarily absorbed by motorists. This was unnecessary because a simple pothole report to the Public Works department could have prevented the problem in the first place or could have shifted the responsibility to pay. We'll talk about how to do that in a bit.
Between 2004 and 2014 San Diego paid out roughly $1,000,000 in 2,200 claims for pothole damages to vehicles.
A pothole that costs a driver a trip to the mechanic could cost a cyclist a trip to the emergency room.
The $6.4 billion figure quoted above is solely the cost to four wheeled motor vehicles. Damages can be far worse for cyclists. Not only can they puncture bike tires, bend wheels and frames, potholes too small for drivers of automobiles to even feel can unbalance a rider and hurl him to the ground and cause injury, or even worse, hurl him into moving traffic and cause a fatality. Motorcyclists are in danger from potholes too since they also rely on the rider remaining balanced.
A bump in the road and a trip to the mechanic is but a mere annoyance to drivers in comparison to the real dangers and expense potholes pose for cyclists and motorcyclists.
For your wallet and your health, the best way to deal with pothole damage is to preempt it.
In case you missed it, we'll say it again; if the Public Works department has been notified about a pothole and failed to repair it before an accident occurred, they could be held liable in a court of law. Clearly, they want to avoid that at all costs especially when bodily harm or death is involved. This should work in your favor, and if you notify them each time you find a pothole, that should speed up the repair.
If your Public Works Department had been notified about a pothole but failed to respond, they could be held liable for your damages.
How do you do that? San Diego has a wide variety of pothole reporting tools including online forms and a hotline. There are even some phone apps coming on the scene to make reporting even easier. The point is, don't look the other way if you run into a pothole. It may be easier than you think to get fixed, and it definitely could be worth your time.
Let's conclude with, everyone who uses the road has the ability and responsibility to keep each other safe. In the case of potholes, one phone call to the right agency—or email or app report—could save someone not just $50, it could save a life.
---
It is our hope that articles like this inform our San Diego community of dangers and help prevent injuries – in this case pothole injuries suffered by cyclists and motorcyclists. As personal injury attorneys in San Diego, we also hold the negligent accountable and that in itself can help to make our community safer. If you have been injured on the road due to the negligence of another – such as failure to repair a known pothole, please contact us today. You may deserve compensation. The call is free and there is no fee until we win. 

Latest posts by Steven Elia
(see all)