Why bother getting potholes fixed? Because they can damage your car, but even worse, they can take a life
In an earlier piece about pothole damages and liability (yes, they can take a life) in which I hopefully gave you some good reasons why you need your city to fix those messy potholes, I skimmed over methods of actually how to report the annoying road hazards.
The fact is, the civic minded citizen is spoiled by an abundant choices of reporting tools. Cities and municipalities have phone lines, fax numbers, online services, and a small handful are creating apps or partnering with third parties to make apps. Not all these tools are easy to use or remember, though, and it's not likely you have your city's service request hotline in your address book.
Unfortunately, because reporting the existence of a pothole can be a pain, or just tedious, and since there's no immediate benefit, we don't do it. We should though because last year potholes caused over $6.4 billion in damages from causes large and small, and that doesn't take into account bodily harm.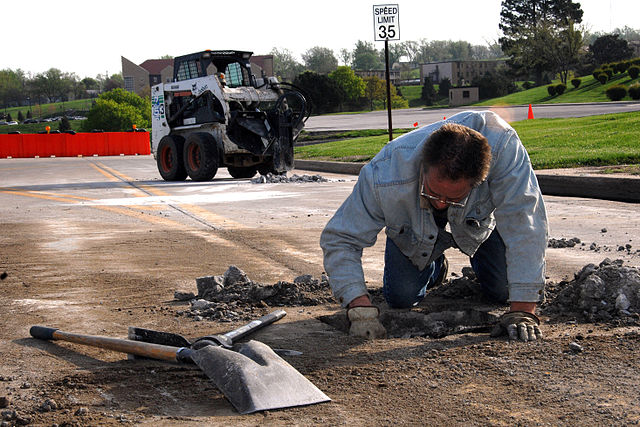 If your Public Works Department had been notified about a pothole but failed to respond, they could be held accountable for your damages.
San Diego is up for the pothole challenge
Fortunately, last year the national transportation research group Trip claimed that San Diego had the sixth worst pothole problem in the nation, prompting Mayor Faulconer to make major changes to San Diego's infrastructure repair philosophy, with nearly $50 million going to fixing potholes and other road problems.
We should be able to fix up our streets, not just because we have weather conducive to preventing potholes, but because our cities have put real effort into making reporting easier.
Unfortunately, the easy-to-use service requests are often hidden behind a maze on city websites.
There are no excuses now
So to make it easy, we've created this city-by-city list of pothole reporting methods, starting with the repair requesting hotline, and followed by online or alternative contact methods, with notes about required steps or extra features.
Remember, as we mentioned in our previous article on potholes, if your Public Works Department is notified but fails to respond and fix that pothole, they could be held liable in the event of an accident. That's great motivation for them to follow through!
So, what's holding you back? Pick up the phone and make San Diego streets safer for us all! Report those potholes San Diego!
---
Hotlines, Online Forms and Apps for Reporting Potholes in San Diego County
San Diego: (619) 527-7500. San Diego's Street Division Service Request allows submissions via text and with map interactions. After submission, you get an email with a case number so you can follow the progress of the issue.
El Cajon: 619-441-1658. Problem reporting is handled here, registration required. The page notes that pothole and sidewalk repairs are typically completed within 48 hours.
La Mesa: Call 619-463-6611.
Santee: 619-258-4100 ext. 188. Phone service only. Transcriptions are taken daily, repairs can take up to five days
Poway: 858-668-4700. Poway uses YourGOV to handle all service requests. The page has links for browsers, Android, iPhone and iPad, as well as the respective users guides.
Chula Vista: 619-397-6000 Chula Vista has ACT (Alert Connect Track) Chula Vista, a browser based online service with both iOS and Android versions. No registration is required, and tickets are publicly visible.
Escondido: 760-839-4349. For potholes (as well as graffiti), the city requests you use their Report It! app to send a picture as a visual aid. Report It! has iPhone, Android, Blackberry and Windows Phone versions.
San Marcos: 760-752-7550 ext. 3314. Go here for instructions on where to get their reporting phone app.
Encinitas: 760-633-2850. Encinitas See here for information on all road maintenance or request repairs with their app.
Carlsbad: 760-434-2980. Phone service only.
Coronado: No phone number. Coronado's online service form only requires the location and a description, along with your name. Issues can be followed with a tracking number or your email.
Imperial Beach: 619-423-8311. Phone service only.
Lemon Grove: Problem reporting is handled here. Registration is required.
National City: 619-336-4580. Service is also available via e-mail at publicworks@nationalcityca.gov as well as fax 619-336-4594.
Oceanside: 760-435-4500. Online service requests are handled via PublicStuff, which offers Android and iOS versions. Registration is required.
Solana: 858-720-2470. Phone service only.
Vista: Call 760 639-6177.
A few minutes can keep more than a few bucks in your pocket
City officials have made it easy for us to report potholes in San Diego; the least we can do is take the effort seriously. Not only does it save money and prevent injuries, it improves the driving experience for everyone here in San Diego County and makes the roads look better.
One phone call to the right agency—or email or app report—could save someone $50, or save their life. We hope you can make the time to do it.
Need some motivation to make those pothole requests? Read "Painful potholes – San Diego beware! This can hurt!" Lives and your car are at risk if you don't.
---
It is our hope that articles like this inform our San Diego community of dangers and help prevent injuries – in this case pothole injuries which can put cyclists and motorcyclists in the hospital or even the morgue. As personal injury attorneys in San Diego, we hold the negligent accountable, and that in itself can help to make our community safer as it makes as all more aware and hopefully more careful when it comes to the lives of others. If you have been injured on the road due to the negligence of another, please contact us today. You may deserve compensation. The call is free and there is no fee until we win. 

Latest posts by Steven Elia
(see all)