Being aware of your surroundings is the best way to stay bike safe when you're cycling in San Diego.
Some bicycle safety tips are repeated enough that you know them by heart: wear a helmet. Have a bike light and a mirror. Wear bright or reflective clothing. Don't use headphones. Follow the law. But the basics are just a start. Here are five advanced bicycle tips from and for lifetime cyclists when riding on our busy San Diego streets.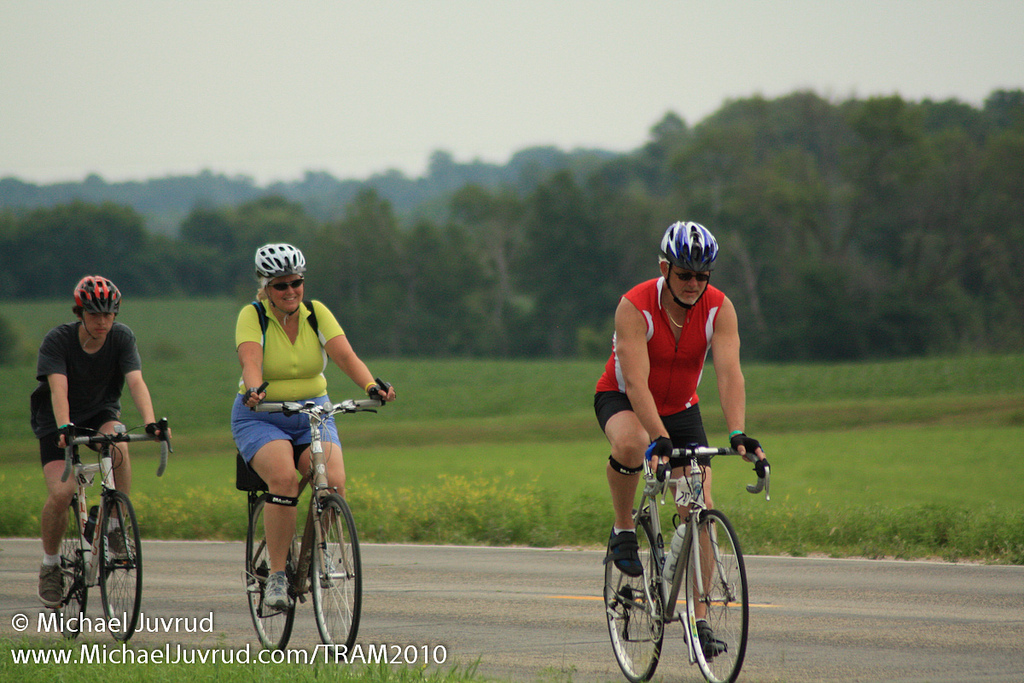 1. When sharing roads with cars in San Diego, act like a car
Bicycles don't have blinkers so you have to signal your turns using hand signs. Just remember to be careful of your arms. Cars may be closer than you think.
Keep to the slow lane unless you're making a turn.
Ride in the direction of traffic. It's not safe to that think because you're small, you can cross over to the oncoming traffic bike lane and ride there safely, even if you feel you need to for just a moment. This is particularly dangerous at intersections where cars don't expect you to be traveling in the opposite direction there.
It's pretty easy to maneuver around slow or stopped vehicles on a bike, but it's not safe.  Besides not being visible to drivers, slightly brushing a car in crowded conditions isn't uncommon, and startled drivers can cause accidents.
According to a 561 day study conducted in Yuma, Arizona, in 51 crashes that involved bicycles, 69 percent involved bicycles going against the flow of traffic.
2. Use the bicycle lane—but stay away from the curb
You are safer when you are visible. Staying to the left in the bicycle lane means road vehicles pay attention to you, but also gives you room to maneuver to the right should you need to.
Dirt, glass and trash build up close to the curb. The further left you are the smoother your ride.
Stay steady on the left. Drivers need to predict where you'll be when they pass and if you're on the left side of the lane, they'll keep their distance. If you ride near the curb, cars may encroach in the bike lane and then you don't have anywhere to go should you encounter a pot hole or debris.
3. Don't be afraid to take over the car lane
When streets are narrow and there is no bike lane or it is cluttered with debris and potholes, take to the car lane and own it. That means you need to send a clear message to drivers by riding in the center of the lane that there isn't room for the two of you side by side and they either need to stay back or wait till they can pass on the left just as they would another car.
The above also applies on city streets that have parked cars and swinging doors. Don't feel like you have to hug the right side and put yourself in harm's way should a car door open. You're less likely to get hit by a car behind you that can see you perfectly, than get injured by a door that swings open.
Of all the bicycle crashes that were investigated in Yuma, only one happened in a bicycle lane and that it was the result of the rider going against the flow of traffic.
4. Keep visible distance at intersections
You don't want to be invisible to a car about to turn towards the right in an intersection. When approaching an intersection, be aware of cars on your left and be prepared to stop or get out of the way if they decide to suddenly turn right in front of you. Position yourself so they know where you are before they turn.
If you're parked at a red light in an intersection, position yourself slightly in front of the car to your left so they see you.
5. Stay off sidewalks
In the same Yuma study, 59 percent of all the accidents happened while the bicycle was in a crosswalk. Another 73 percent occurred after the cyclist had been riding on the sidewalk just prior to being struck.
In some areas, bicycles are privileged to use both sidewalk and street, but the sidewalk isn't always safer. Cars are used to dealing with pedestrians, so they might start a turn – thinking it's clear – only to crash into a bicycle that quickly comes on the scene from nowhere. See below for San Diego restrictions.
Sometimes there's temptation to swing back and forth from road to sidewalk, but this doesn't give fast moving cars time to react or prepare for your presence. Stay on the street where cars can predict where you're going to be.
If you are using the sidewalk, consider walking your bike.
More tips can are available from the National Traffic and Highway Safety Administration and our favorite post on how to avoid being hit by a car on a bike by Michael Bluejay's – bicyclesafe.com.
In summary, ride visibly, ride defensibly, and ride predictably.
---
Here are the sidewalk cycling restrictions in San Diego County as reported by the San Diego Bike Coalition:
Allowed on sidewalks, except in business districts: Oceanside, Encinitas, San Diego, National City, Chula Vista, Imperial Beach, Lemon Grove,  Santee, and unincorporated San Diego County.
Forbidden at all times: Carlsbad, El Cajon, Vista, Poway
Regulated but not forbidden: Escondido, San Marcos
Not regulated: Solana Beach, La Mesa
Riding in parks prohibited: Del Mar
---
 Injured in a bicycle accident?
If you are a cyclist and have been hit by a car, make sure you consult with a personal injury attorney who knows the laws as they pertain to cycling in order to get the best representation possible. If you are in the San Diego area, request a free case review with one of our attorneys who specializes in bicycle accident injuries. Insurance companies will try to prove you are at fault. Fight back. Put us on your side and we'll fight passionately for your rights and the rights of all cyclists.

Latest posts by Steven Elia
(see all)